The Best Crystals to Enhance Intuition, Awaken Psychic Gifts, and More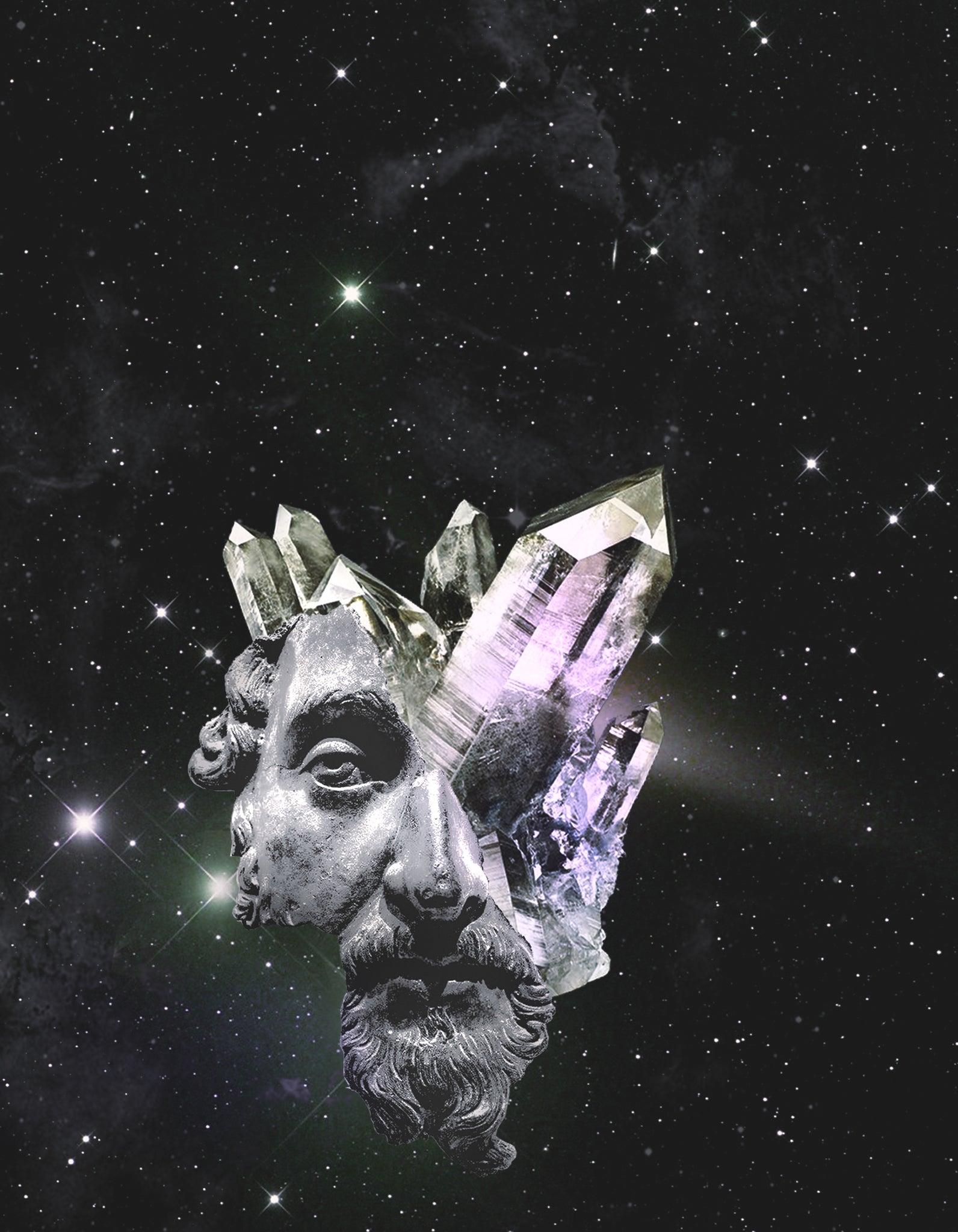 By: Jessica Ourisman 
Those on the spiritual path frequently experience the heightening of intuition as a "symptom" of their inner-work and awakening. Enhanced sensitivity to the subtle energies — from the planets, the ethereal realms, and those emitted by and stored within crystals — thus make these ancient, earth-derived treasures popular tools among the metaphysically-inclined for both inspiring, fine-tuning, and promoting trust in these inherent spiritual gifts. But what is intuition, exactly? While you've likely experienced it as a form of inner-knowing, a guided hunch, or an unfurled pearl of wisdom that comes from within, it can be hard to put words to the concept itself. "Intuition is an inner-knowing without logic or explanation," says Intuitive Counselor Kerry Giannantonio. "When my intuition is revved up [during readings], it's almost as if I can't control what comes out of my mouth. A second later, I think or say, I don't know why I said that." 
Aside from channeled, or intuitively guided speech, intuition may also show up as words, messages, songs/lyrics/phrases, or even a random thought, image, or idea that pops into her mind, simply as a function of being tuned-in. We all possess intuitive gifts, but sometimes energetic blocks or states of disconnect can stymie the flow of intuitive guidance coming from within, or from whatever (or whomever) your spiritual belief system designates as a source of such guidance and wisdom. "I notice an energetic block when things are off or I'm not connecting. It feels like messages don't flow like they typically do. It's always obvious because I feel cut off," Giannantonio adds. Crystals can be used therapeutically in both of these instances. Whether you are hoping to heighten your existing intuitive gifts — including the various "clairs" (AKA clairvoyance, clairaudience, clairsentience, claircognizance, etc.) — or even to achieve the ideal states, or promote the inner work, that facilitates access to these innate human capabilities, the right crystals can be strategically chosen to help you calibrate.
Mikaela MacLean, Auric Aesthetician and Human Design reader, both uses crystals personally and prescribes them to her clients. "I absolutely use crystals for the purpose of [enhancing my intuition]," MacLean says. "I sleep with an array of crystals next to my bed every night to help receive intuitive guidance in dreams." She adds that sleeping beside crystals can be especially helpful as we are already intuitively open when sleeping, allowing them to help entrain our energy bodies to their high frequencies. She also wears gemstone jewelry with intention, strategically selecting crystals and placement on the body to help align with the astrological season and the Human Design energy centers corresponding to the "spleen gates," which govern animal instincts, intuition, and the aforementioned "clairs."
If you are interested in utilizing crystals to complement, supplement, or promote your intuition, here are some of our favorite picks. To start practicing listening to your intuition, see which you are naturally drawn to first. They work fabulously in jewelry, arranged in a grid, carried on your person, held during meditation, or kept on your bedside.
Rutilated Quartz
What It Looks Like: Clear with "needles" of rutile throughout
What It Does: Quartz, what our founder refers to as the 'Swiss Army Knife' of crystals, is said to promote positive energy, clarity, and to amplify the energy of other crystals. Meanwhile, the lines of rutile inside rutilated quartz, also known as Hairs of Venus, are said to enhance communication with your Spirit Guides while improving intuition and psychic abilities. Our founder also finds the stone to be particularly uplifting and useful during meditation.
When to Use It: To improve psychic gifts and intuition, to promote clearer connection with your spiritual helpers
Moonstone
What It Looks Like: Milky white but can reflect other colors
What It Does: Like its name implies, moonstone alludes to the moon — the universal symbol of the divine feminine and the ruler of our emotional bodies. It is by turning within and becoming more closely acquainted with the deepest levels and currents of the emotions that intuition itself grows. "I love moonstone for accessing that very Yin, feminine, receptive form of knowing," MacLean says, who wears a Moonstone ring on her left middle finger — corresponding to the planet Saturn — as a reminder to let her intuitive awareness be her teacher and guide.
When to Use It: Intuition through self-knowledge, to become receptive to intuitive guidance and messages, to trust in your intuition
What It Looks Like: Royal blue with neutral-hued streaks
What It Does: Beloved by ancient Egyptian royalty, the so-called Wisdom Stone is associated with the third eye — the energy center associated with intuition and psychic gifts — and throat chakras. Not only does this therefore put you in touch with your inner, intuition-led truth, but it empowers you to share it with the world by clearing blockages associated with expression.
When to Use It: To inspire intuitive wisdom through activating the third eye, and then to express these uncovered truths by unblocking the throat chakra
What It Looks Like: Deep Blue (Opaque), White Streaks
What It Does: This is a self-cleansing stone that is known to activate your inherent psychic gifts. It does so with a frequency that aligns with the third eye and crown chakras, both inspiring intuitive "sight" or knowledge, while fostering reception to universal downloads and wisdom. If you are interested in dreamwork or analysis as a form of self-inquiry, this is a wonderful stone to keep on your bedside for promoting more vivid dreams.
When to Use It: To awaken psychic gifts, to receive universal guidance, to help you trust in your intuition
What It Looks Like: Grey with flashes of blue or green.
What It Does: Labradorite is another of MacLean's favorites. "It really helps you 'see' clairvoyantly, and to access insight and wisdom," she says. In addition to awakening psychic abilities and opening our ethereal channels for receiving cosmic information, it is also a wonderful pick for helping to catalyze transformation. Our founder also likes to think of Labradorite as an energetic shield for your aura, helping to keep you tuned-into your inner knowing by fending off negative, distracting frequencies and energetically draining influences.
When to Use It: To tune-into the metaphysical realms, to awaken your psychic gifts, for personal growth that yields greater intuition
What It Looks Like: Light Blue, sheer sometimes cloudy
What It Does: If you are hoping to use and trust in your intuition more, this is a fantastic selection for helping you 'trust your gut.' It is also said to sharpen your intuitive gifts, and trust in said gifts, through imparting emotional clarity and empathy that leads to greater understanding. Thus, like moonstone, it is useful to use for the purpose of self-inquiry, leading among other things to enhanced intuition and trust in your innate gifts.
When to Use It: To sharpen your intuition and inspire clairvoyance through self-reflection, self-knowledge, and empathy
What It Looks Like: Pale lavender to deep violet
What It Does: "The color of amethyst is related to our crown chakra, or 'head center' in Human Design, which is the center of intuitive inspiration and inner-knowing," MacLean shares. By energetically activating and aligning with your crown chakra, you can therefore help to facilitate high frequency downloads, allowing messages to drop into your awareness via the energy center atop your head. MacLean adds that she loves to sleep atop a BioMat filled with amethyst crystals, and also uses a weighted tuning fork with an amethyst tip to help open her crown chakra.
When to Use It: To inspire intuition through connection to higher energetic realms
Click here to shop Sage & Salt's products for intuition.